if you've looked around my website you've probably noticed i'm a HUGE guns n roses / slash fan. as any die-hard gunner knows - the crown jewel of any gnr collection would have to be a guns n roses pinball machine. after years of waiting i finally have a machine of my own sitting right in the living room!

if you have a machine - you know how hard it is to find information about it. with the decline of pinball, it is really hard to get technical help, find documentation, buy spare parts, etc, etc for any machine, especially a low-production machine like the gnr one. since i was never into pinball before i bought the machine - i had (have) lots of learning to do. this page is here to be a resource for information about the guns n roses pinball machine. if you're a fellow owner please contact me so i can add you to the list.

if you don't own a guns n roses pinball machine - you can still play one! all you need is a pc! play the gnr pinball (or any pinball machine) using visual pinball! follow this link to download everything you need to play gnr pinball. i have added my own notes on getting everything installed and working - look at the readme.txt file. i also have gnr tetris if you want that also!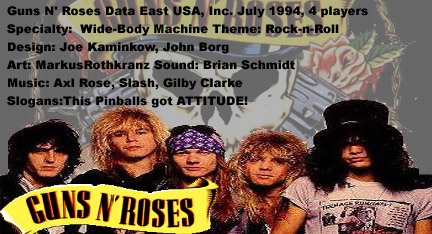 gnr pinball owners
If you own a guns n roses pinball machine - this is the place you want to look. lots of gnr pinball specific stuff is listed here... mods, tech help, plastic scans, player faqs, manuals, roms, etc..
About the GNR pinball machine
just a little writeup i made about the history and production of the gnr pinball machine.
Internet_Pinball_Database (BACKUP)
the IPDB has information on all pinball machines. the above link is an archive coppy i made of their gnr page. the pics listed (credited to allen shope) are pics of my machine (i bought mine from allen). the ipdb has lots of info about the machine including roms and manuals.
My machine
So you want to see my machine? see my perfect playfield (including the axl hole), where i got it from, what i've done to it? right now i just have pics but i'll add more soon!
Pics
pics related to the guns n roses pinball. pictures of slash, artwork for the cabinate, promo tanslite design, gnr pinball advertisments, and scans of cards in case you need to re-print cards for your machine.
Slash Interviews
collection of interviews with slash about the guns n roses pinball machine.
Videos
video clips of slash interviews about pinball.
Visual Pinball
if you have a pc, you can play guns n roses roses pinball!